I thought I would write a short article on the Amigo glider that I have been flying recently. Although there was some initial doubt about its build strength it seems to have held up well to multiple bungee launches. My overall view is that this glider is really good value (recently on special for ~A$100 delivered).
Apart from the wingspan of 2m and fuselage length of 1m, there is very little (read no) useful information from the manufacturer such as:
 Wing Type – No (really!)
 Recommended Battery – No (wow….solar panels?)
 Power - Electric Thermal (is this a thunderstorm)
 But alas, no mention of recommended CG.
There is some speculation that it is a modified version of the 1965 Graupner Amigo II, but this is unconfirmed.
http://www.outerzone.co.uk/plan_details.asp?ID=4428
My original setup was just Rudder- Elevator which I thought handled very nicely. However, I have since added ailerons, mainly to use as spoilers during landing. For non-competition flying I wouldn't bother with ailerons if that is your preference.
I used a BEC voltage booster and a 1S 650mAh cylindrical LiPo for power which has worked well and is very light.
http://www.hobbyking.com/hobbyking/store/__7884__Voltage_Booster_for_BEC.html
http://www.hobbyking.com/hobbyking/store/__23317__Turnigy_nano_tech_650mAh_1S_15c_Round_Cell.html
Build wise it is pretty straightforward and only took me an hour or two. Here's a link to the instructions:
http://www.r2hobbies.com/manuals/rcpl3901022.pdf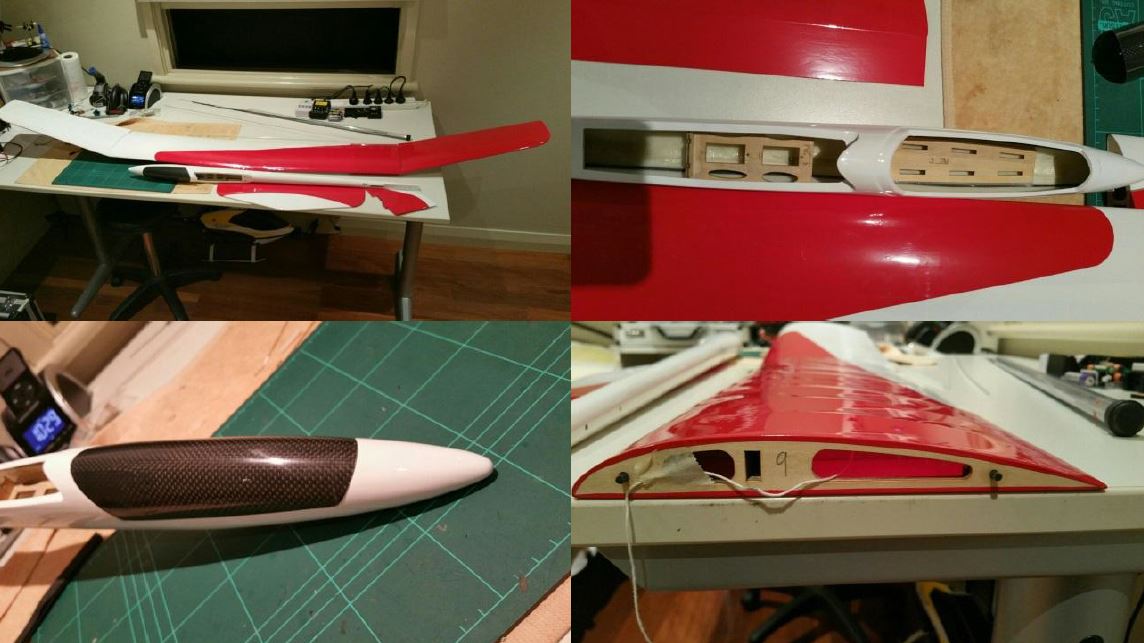 Here are my notes from the build:
 Nett weight: 550g
 All up weight with aileron servos: 896g
 CG: 68mm from LE
 Tow hook: 295mm from nose
 The seating of the wing was a bit loose so rather than move the bolt holes I used some balsa to thicken up the fuselage seating at the wing leading edge.
 The plywood dihedral wing joiners had some play in them so I glued some balsa to the bottom to thicken them up slightly. They now fit snugly and don't rattle.
 Note that all holes are predrilled and need to be located under the wing covering (including holes for wing bolts, wing mount carbon fibre pegs, control horn screws.

 Choose your preferred nose weight method – I took the agricultural method of using a hammer to shape a large lead sinker into a conical shape and epoxying it into position.
Hope this info is useful and happy gliding to all you prospective Amigo owners.
Grant
(Editor's note - what Grant modestly doesn't mention is that this glider helped him win the bungee/thermal event at the recent glider day, so it is no slouch, especially considering the price. Walter has also built one and converted it to electric, and has used the ailerons purely as spoilers).