Biplane Day2nd July 2016
Well what do you expect in mid-winter ……. it was bloody cold at 9.00am that Sunday morning as the crowd gathered for the Annual Biplane event, and it was a gathering! By ten o'clock there were 14 planes from a tiny foamie to Doug's big Tiger moth waiting to fly (best turn out for some years) but sadly they had to wait – it was windy! For a number of pilots it was too windy and they were not prepared to risk their valuable wings.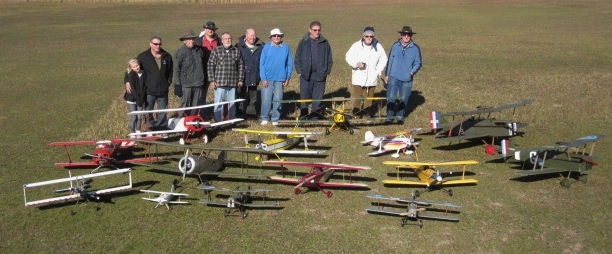 Dave Foster was one of the early brave ones prepared to hurl his Sopwith Pup and SE5 into the maelstrom. He was closely followed by pilots like Andrew Biddlecombe and his Christen Eagle, Tom Sparkes and his Pits special and Mike Minty and his Hogbipe but they had a much higher power to weight ratio.
It warmed up but the wind stayed on. Here is Tom in between flights in the pits with his Pits (ho, ho!) while Andrew returned from another high speed flight.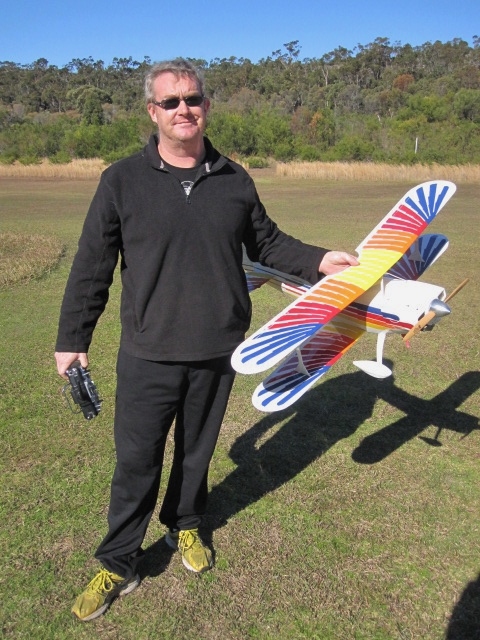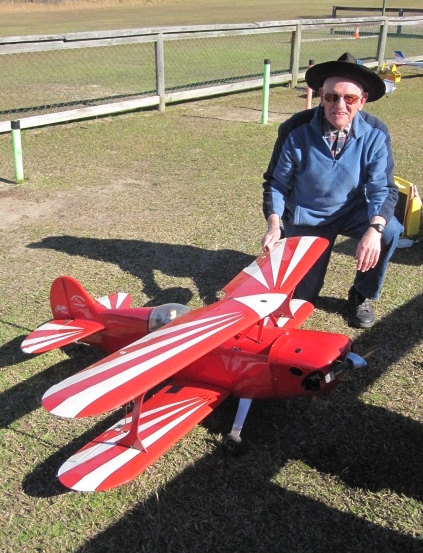 It was quite pleasant in the sun, just the wind whipping from the car park kept a lot of planes on the ground and left a lot of time for aeronautical discussions. Sometimes things got so quiet that Dave Pound (our intrepid leader and CD) drifted gently off to zz land.
Dave Foster had an SE5 as well as his Pup and so did Col Mitchell but sadly his decide to go bush exploring. Col admitted he may well have something to do with that but he and Dave managed to find it (the remains!) after a fair bush walk. This is their collection of SE5s.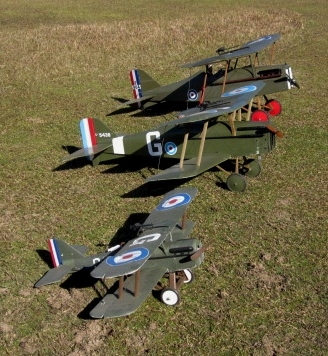 In between biplanes we had a chance to witness the maiden flight of Tom's new electric racer ……. But that will need a bit more work before it races.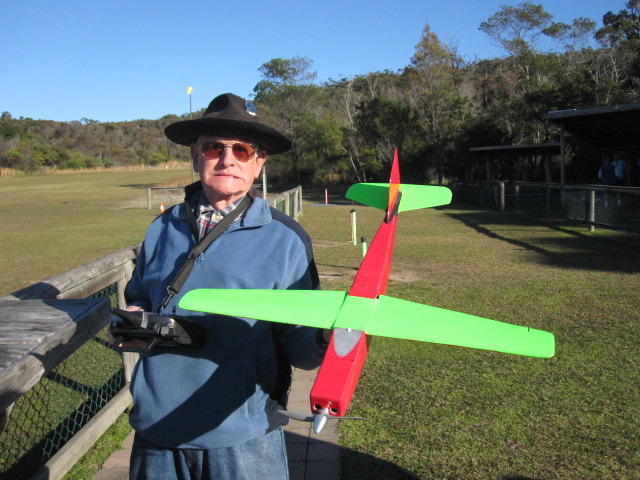 At the other end of the scale Clive brought a memory of George Kaley, his vintage electric Keil Kraft Southerner which cruised round slowly as he tried to make it free-flight.
Meanwhile Dave F kept on flying his Pup and Mike M managed to get his up once for a rather hairy flight including looking far too closely at the trees! Here it is safely on the ground in front of his Hogbipe and Ultimate that flew well apart from the ASP 120 that insisted on cutting out regularly.
We had just about finished flying when Ron Clarke tip-toed out with a teeny-weeny electric Pitts that was blown rapidly down wind and hastily put away!
Judging was done by the pilots and the scores added up to give:
1st David Foster SE5 Eq2nd Andrew Biddlecombe Eq Eq2nd Tom Sparkes
Eq 4th Clive Weatherhead, Col Mitchel and Mike Minty Pup
Finally Dave Foster (last year's winner of Best Biplane) had to nominate his choice for this year and the shield went to
Andrew Biddlecombe and his Christen Eagle
Thanks to all who turned up and flew, shame about the wind, by about 3 pm it had calmed right down – bloody typical!
Mike Minty