One Model & Electric Fun Fly

August 2016
You may recall at the AGM the prospect of an additional comp was raised and our CD Dave Pound said that as long as 4 members showed up he would run one. Well, last Saturday 7 stalwarts arrived ready for the fray!
The first event was to be a 10 lap race for the "One Model" (a Tiger or a Scanner – yes, ok, that's not one model but near enough!) and here they are ready for the off.
Dave Pound, Stuart Cohen, Mike Minty, Dave Pound, Clive "Call me Prez" Weatherhead, An
drew Biddlecombe and Kelvin King; that's 7 which is a bit much to all fly together so 7 rounds of 3 planes each time were flown. It soon became obvious that despite having the same size engines, same props and standard fuel there was quite a difference in the speed of the planes. Of course the ability to turn fast and accurately helps (there was a judge at each end to watch for "cuts") each pilot had a "caller" to encourage them to turn at the right time.
After a lot of hectic flying we had the result:
1st Kelvin King

2nd Equal Stuart Cohen & Clive W

4th Dave Pound
Kelvin had the fastest race in 2mins 31 secs
And so we moved on to the Electric Fun Fly the first part of which was the

Climb and Glide

. Climb for 10 sec, cut the motor and glide as long as possible while trying to make a spot landing for extra points. Same pilots as before but now Simon Comish joined in with his foam T28, Chris Walker entered his small foam Piper Cub, David F got out his small foam Stik while Mike swopped his 45 powered fun fly for a same size electric version. Andrew got out his ancient foam Me163 with very bendy wings and springy nose! There was a marked variation in climbing and gliding ability with most people taking a conventional landing approach to the spot landing …….except Andrew who, when he thought he was above the spot, just put the Me into a vertical dive and relied on the "springy nose" to absorb the shock! Simon topped this with a time of 1min 19 secs plus 10 points for landing.
Which led to the Electric Racing over 8 laps. The laps were reduced as not everyone was sure their batteries would last for 10 laps! The sharp eyed amongst you will notice there is a huge range of models here from Mikes large traditional fun fly model to the vicious looking all fibreglass and carbon fibre weapon of Andrew B with a 4x8 prop! There are 3 Deltas, one from David Bolstad, a foam Piper Cub from Chris Walker, a home-made special from Tom Sparkes and Dave Foster (sorry, didn't get him in the photo) entered his small foamie Stik while Simon Comish had another real racer.
Needless to say the speed difference was even greater with Andrews lapping nearly everyone else. He would have won but for a technical glitch in the third round that forced him to slow below the speed of light! There was some carnage in this event, Dave B had his motor depart from the fuse while Kelvin managed even more damage. But when all times were sorted we had:
1st Dave Bolstad

2nd Andrew B

3rd Simon Comish

4th Kelvin King
Dave B managed the best time here with 1 min 17 secs for the 8 laps.
The next event was interesting, The Aerobatic Dash consisting of 3 rolls, 3 loops, 5 seconds inverted and a spot landing in the shortest time! Some pilots found this a strain like Mike who had never flown his inverted before but Chris, to his and everyone else's surprise, found his Cub flew surprisingly well inverted. Dave F found his place in the carnage book and Kelvin discovered his foam Mustang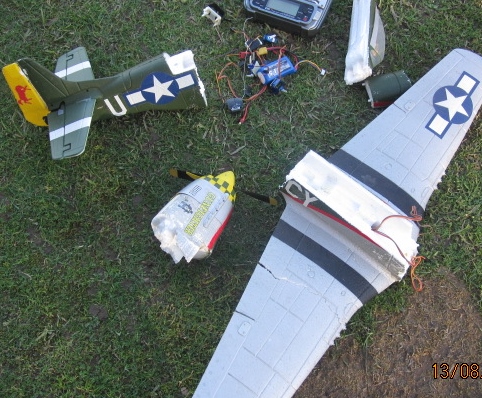 really doesn't like in
verted! Clive completed this fastest in 35 secs plus a 15 point spot landing bonus.
Finally we had the

Limbo

to complete the fun, how many times can you go under the limbo tape in a minute. This is always entertaining for the onlookers but not always for the pilots! Here are said viewers with most of them awake.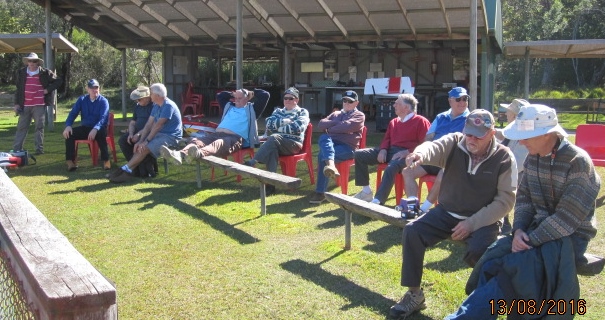 This is Clive with his extravagantly expensive $29 profile 3D foamie making a good pass.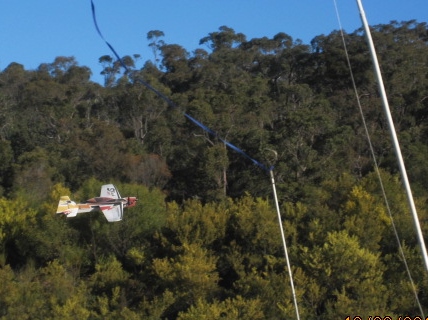 Chris Walker set up for a clean pass of his own...
...then Simon with the T28 keeps well clear of the poles.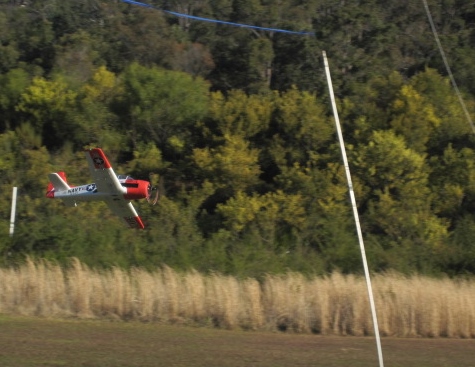 Of course it's not easy to judge the height and distance when you are aiming from a distance. Here Clive claimed the best score of 5 passes in the 1 minute flying time
All this time Dave Pound had been guarding the trophies but with the scores added up from the 3 events it was time to announce the Fun Fly trophy winners:
1st Clive Weatherhead

2nd Simon

3rd Andrew

4th Dave Bolstad
And this is all the smiling trophy winners
Thanks to all the members who helped co
unt, spot cut and time things. Hope to see even more next time!
Don't forget to check out the Gallery on the web site for some excellent photos of the event from Jody Redfern.