Around about 35 years ago, our field was part of the area used for the sets and filming of 3 series of 5 Mile Creek - a process which helped pay for some of the infrastructure that we enjoy, today, at the club.
The Daily Telegraph article, with some great photos, can be accessed by clicking HERE.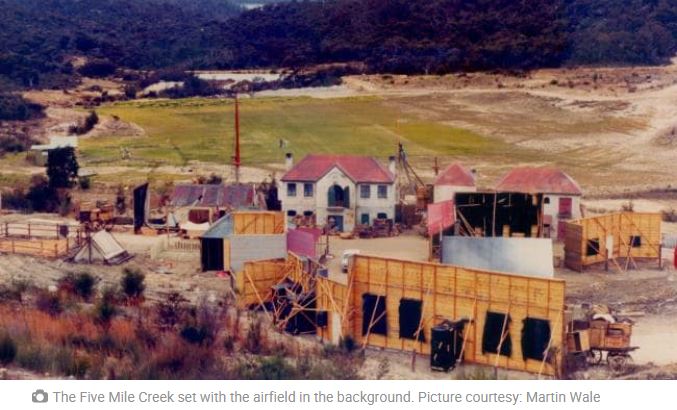 As you may know, Dave Pound and Tom Sparkes have expressed a desire to step down from the committee this year, which means that we will be in need of a new Vice President (who is, also, the Safety Reporting Officer) and a new Competition Director for the club. If you know of someone, or you are willing to join the committee and contribute to the running of the club, you can downlaod the nomiation form at this link.
Nominations need to be back with Brian Porman as soon as possible and no later than 1 week before the AGM which is on Tueday 26th June.
Thanks
Clive
So glider day had a huge 3 people turn up for electric, and 2 potential competitors for thermal (so that didn't run). The results are at this LINK. Congratulations to those who were able to attend.
Please book Autumn Scale Day in your diary now: MOVED TO Sunday 3rd June from 9am
It's a day for scale aircraft of all types, plenty of flying, plenty of fun, a round of one make pylon racing at lunch time (Scanner or Tiger, 46 or smaller motor, APC 11x6 prop, club supplies fuel, no modifications allowed!). Visitors and guests are welcome, and we all rely on plenty of participation to make it a big day. Please come along and fly, or get involved in judging, helping out, eating the sausages. Looking forward to seeing you there.
Clive
Please note that Autumn Scale Day will now be on Sunday 3rd June 2018.
The field will be open to scale aircraft only, but any member with a scale or scaleish model can join in.
Dave Pound will be looking for volunteers to help with setup, registration, catering, judging and flight line control.
Sausage sizzle, hot drinks. Guests very welcome!
A reminder that our Autumn Glider Comp is on Saturday March 17th starting from midday. The field will be open for sport flying as usual in the morning and then restricted to glider competitors in the afternoon.
The glider events will be:
- electric glider - 5 minute target flight, motor run time in seconds gets deducted, as do seconds over and under 5 mins, and a spot landing bonus is added.
- thermal glider - from a bungee launch, 5 minute target flight with penalties for over and under, and spot landing bonus
There will be a few rounds in each category. If you have a glider, come and give it a go. A lot of the ARTF foam gliders are VERY competitive now so this isn't a comp that plays into the hands of the expensive competition machines.
Also, Doug has got the glider tug working so, if you have a glider that can be towed up and release the towline, let Clive or Doug know. If we have enough, there might be a towline glider event one day!
Ed