We've just posted the Eelectric Flight Primer - a colelction of information from David Menzies that might help demistify some of the electric flight calculations and choices. A good read... click HERE to go to the article.
Ed
I am sorry to let you know that Geoff Green passed away, peacefully, on 12th June 2018, aged 70.
Geoff was treasurer of WRCS many years ago, and a member of our committee for some time. He was a keen scale modeller and a good bloke - a popular club member. In recent years he has been a member of the Rise Off Water club in Sydney, pursuing an interest in seaplanes.
Thoughts and condolences from all his friends at WRCS go to Geoff's wife and his 4 children.
Clive
The following extract, from someone who knew him well, will give you an insight into Geoff, and his contribution to the club we enjoy today:
"Geoff singlehandedly saved the field from a devastating bush fire which wiped out almost the entire Garigal National Park . A 'controlled burn ' ! near Narrabeen Lake got away midweek . Geoff was working in French's Forest at the time and drove down to the field and seeing the impending danger drove back up to the Bush Fire Brigade and found them all waiting for the fire to reach Mona Vale and Morgan Rds as they considered the bush impenetrable. Geoff convinced them to travel down 'our track' and onto the field. The fireys were eventually surrounded by fire and saved all our flying area, pits and only lost one of two Portaloso which used to be located near the disabled parking area in the turnaround area. Geoff himself only left the area, in his company car, as the flames licked the door handles.
Upon returning to his office Geoff rang me, as Vice-President and I went right off at him for going there alone because I knew that he was a 'critical heomophiliac ', and one little bump would have had him bleeding internally.
A few months later WRCS had a big Scale Day and BBQ and invited the Brigade as our special guests. We took a number of them up with a buddy system and presented a substantial cheque to help replace fire fighting equipment lost during the fire.
Even back in the Eighties, Geoff was the oldest survivor in the state with his desease and didn't expect a long life.
He made every minute count and loved building, more than flying, scale models.
One outstanding example was an MRM/Marutaka/Royal Spitfire which he thoroughly researched and modified to represent the late Wing Commander Bobby Gibbe's MkVIII 'Grey Nurse' long before Temora acquired Col Pay's Spit and repainted it in Bobby's colours.
Geoff was really tickled when Bobby and 'Black Jack' Walker visited a WRCS Scale Day and authenticated Geoff's model and identified the one 'kill' marking Geoff was puzzled by as a Vichy French aircraft.
Geoff was a regular visitor to WRCS Scale Days despite increasing health issues and all too frequent hospitalisation, often accompanied by his good mates Graham Swalwell and Peter Bons.
Geoff was a charming, gentle soul, always with a firm handshake and a big, infectious smile and it was a pure joy just to be around him.
Geoff loved great fighters like Spitfires, Mustangs and Corsairs and he too was a great fighter.
He will be sadly missed by all who knew him in every facet of his busy and, all considered, remarkably long life."
Saturday 14th July couldn't have been much better for flying - not too cold, not much wind, and we had a good turnout of biplanes as well as the usual Saturday morning pilots.
Col Mitchell's lovely SE5A took first prize in pilot's choice, narrowly pipping David Foster with his triplane and Phil Maher with his Pitts Mamba. David Foster's Fokker picked up 4th place too, with Stuart Cohen (ultimate) and Tom Sparks (pitts) picking up a vote or two. Clive's tatty old Panic and Dave B's microscopic foam biplane didn't get a vote - par for the course.
In the racing, Stuart Cohen had a tiger, as did Dave Bolstad, and Clive had finished a Scanner that morning and unseized an old Super Tigre engine that hadn't run for several years. The racing was very close (especially the first corner mayhem) and Stuart eventually pulled away to win, with Clive 2nd and Dave Bolstad going off the boil and completing his last lap inverted. Despite the small numbers it was a great race and thanks to all the callers and spotters. We had good eyes at both end pylons for this race and the pilots made a special effort to go round rather than inside the pylons - well worth doing and only one cut (whilst inverted).
The 11th August is our big fun fly, fun scale, bring and buy day with another round of racing. If you haven't tried this yet, how about getting your local hobby shop to grab you a Scanner or a Tiger, bung in a 46 glow and give it a go? They are both excellent sport planes for everyday flying, and at about $160 for the Scanner, it isn't exactly expensive racing. You'll be competitive just by turning up with a plane fitted with an engine and the right propeller (APC 11x6 only). Standard 10% nitro fuel. It's not tough to fly the 10 lap course and a great way to sharpen your focus on smooth flying and accurate turning - which is most of what you need to do to place well.
Hamza Burney has posted some great photos on the WRCS member's facebook page. Here's a taster: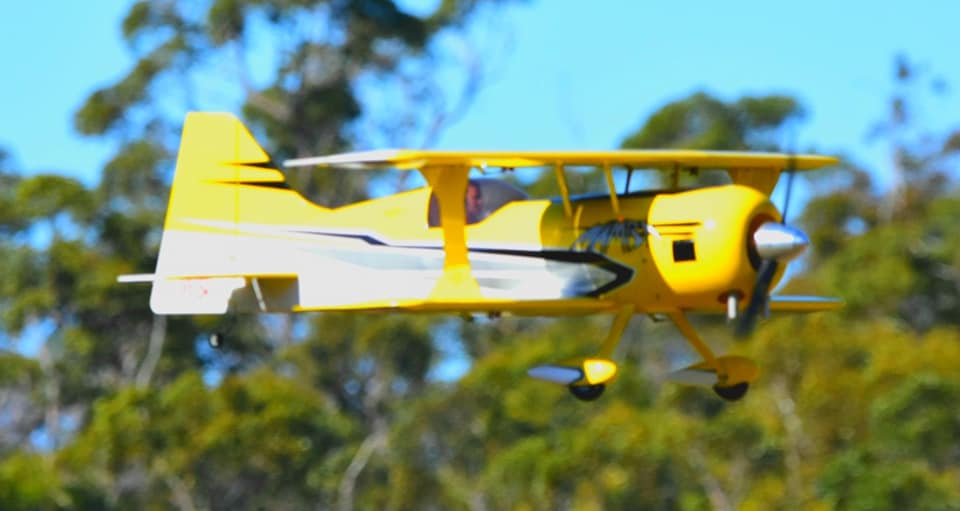 Around about 35 years ago, our field was part of the area used for the sets and filming of 3 series of 5 Mile Creek - a process which helped pay for some of the infrastructure that we enjoy, today, at the club.
The Daily Telegraph article, with some great photos, can be accessed by clicking HERE.