GLIDER DAY POSTPONED UNTIL 25/3
With predicted temperatures of 41 degrees or more at Belrose on Saturday afternoon 11th Feb, our noble competition director has wisely postponed the glider event.
The new date will be Saturday 25th March to allow for other events both at WRCS and at other clubs.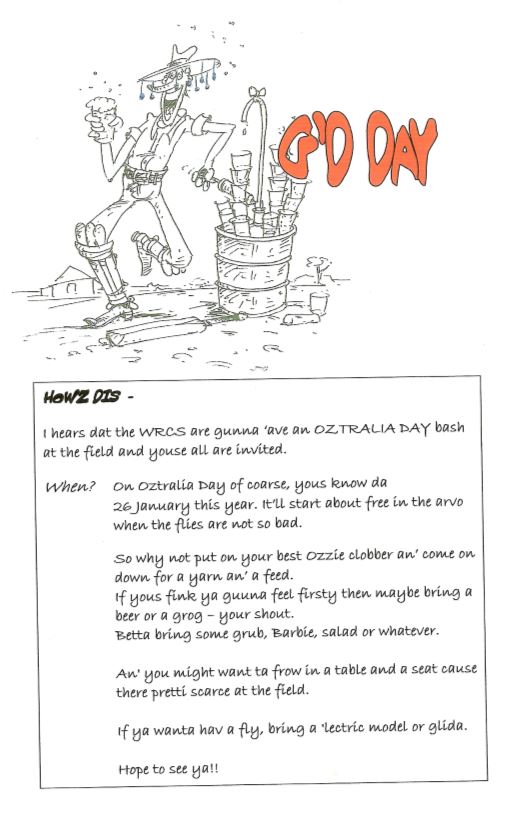 For those of you that thought that Vanessa Rig is an actress, Stan can put you right. Have a look at his latest article by clicking HERE, and if you have a bit of time, enjoy the other members articles under the menu item at the top of page. There's some good reading!
Ed
December 2016 Aeromodeller from the UK had a free plan of a small autogyro included – gotta love a FREE plan! So I went to the field on Tue 27th determined to fly my newly built Boddington designed twin rotor autogyro "Byrace". I had fitted my .5cc Alex Phinn Compish diesel which is theoretically a bit powerful (plan recommends .3 - .4) but what the hell, you can always back off the compression!
There was a bit of a breeze and the "instructions" say point it into the wind, wait for the rotors to pin up, walk forward slowly and let it lift from your hand – don't chuck it! I held it up and the rotors couldn't be bothered to spin so the usual watching crowd suggested ROG.
There's a casual competition developing amongst some of our members who have a soft spot for unusual aircraft. Have a look at the autogyro in this link. The video shows it flying beautifully and it is an easy build from depron. Plans are freely available, courtesy of a generous designer. WRCS members can e-mail me by clicking This email address is being protected from spambots. You need JavaScript enabled to view it. if you'd like copies in ready to print format.
For the more adventurous, there are plenty of other options. The DB Autogyro used to be a wonderful kit. I think it is still available, and i'm sure plans are, if not. Whirligig is another twin rotor autogyro, easily built from plans, which can be purchased from the Australian Traplet shop for about $22 by clicking HERE. This month's Aeromodeller magazine has a free plan for a small twin rotor autogyro and, if you really want to push the boat out, you could design your own. It's nowhere near as hard as it looks, and getting a home-designed plane to fly has to be one of the most rewarding elements of our hobby.
Clive