I am sorry to let you know that Geoff Green passed away, peacefully, on 12th June 2018, aged 70.
Geoff was treasurer of WRCS many years ago, and a member of our committee for some time. He was a keen scale modeller and a good bloke - a popular club member. In recent years he has been a member of the Rise Off Water club in Sydney, pursuing an interest in seaplanes.
Thoughts and condolences from all his friends at WRCS go to Geoff's wife and his 4 children.
Clive
The following extract, from someone who knew him well, will give you an insight into Geoff, and his contribution to the club we enjoy today:
"Geoff singlehandedly saved the field from a devastating bush fire which wiped out almost the entire Garigal National Park . A 'controlled burn ' ! near Narrabeen Lake got away midweek . Geoff was working in French's Forest at the time and drove down to the field and seeing the impending danger drove back up to the Bush Fire Brigade and found them all waiting for the fire to reach Mona Vale and Morgan Rds as they considered the bush impenetrable. Geoff convinced them to travel down 'our track' and onto the field. The fireys were eventually surrounded by fire and saved all our flying area, pits and only lost one of two Portaloso which used to be located near the disabled parking area in the turnaround area. Geoff himself only left the area, in his company car, as the flames licked the door handles.
Upon returning to his office Geoff rang me, as Vice-President and I went right off at him for going there alone because I knew that he was a 'critical heomophiliac ', and one little bump would have had him bleeding internally.
A few months later WRCS had a big Scale Day and BBQ and invited the Brigade as our special guests. We took a number of them up with a buddy system and presented a substantial cheque to help replace fire fighting equipment lost during the fire.
Even back in the Eighties, Geoff was the oldest survivor in the state with his desease and didn't expect a long life.
He made every minute count and loved building, more than flying, scale models.
One outstanding example was an MRM/Marutaka/Royal Spitfire which he thoroughly researched and modified to represent the late Wing Commander Bobby Gibbe's MkVIII 'Grey Nurse' long before Temora acquired Col Pay's Spit and repainted it in Bobby's colours.
Geoff was really tickled when Bobby and 'Black Jack' Walker visited a WRCS Scale Day and authenticated Geoff's model and identified the one 'kill' marking Geoff was puzzled by as a Vichy French aircraft.
Geoff was a regular visitor to WRCS Scale Days despite increasing health issues and all too frequent hospitalisation, often accompanied by his good mates Graham Swalwell and Peter Bons.
Geoff was a charming, gentle soul, always with a firm handshake and a big, infectious smile and it was a pure joy just to be around him.
Geoff loved great fighters like Spitfires, Mustangs and Corsairs and he too was a great fighter.
He will be sadly missed by all who knew him in every facet of his busy and, all considered, remarkably long life."
Around about 35 years ago, our field was part of the area used for the sets and filming of 3 series of 5 Mile Creek - a process which helped pay for some of the infrastructure that we enjoy, today, at the club.
The Daily Telegraph article, with some great photos, can be accessed by clicking HERE.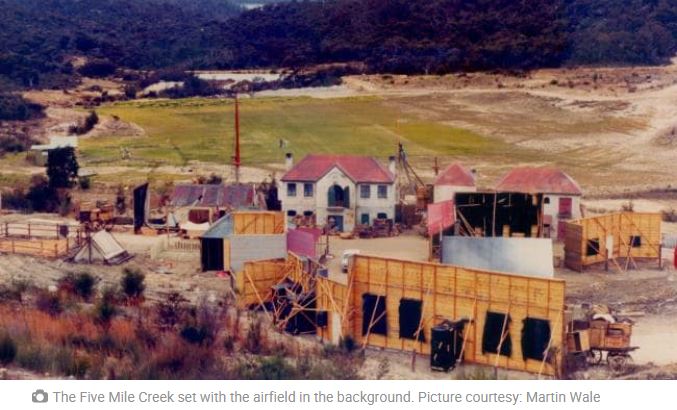 So glider day had a huge 3 people turn up for electric, and 2 potential competitors for thermal (so that didn't run). The results are at this LINK. Congratulations to those who were able to attend.
Please book Autumn Scale Day in your diary now: MOVED TO Sunday 3rd June from 9am
It's a day for scale aircraft of all types, plenty of flying, plenty of fun, a round of one make pylon racing at lunch time (Scanner or Tiger, 46 or smaller motor, APC 11x6 prop, club supplies fuel, no modifications allowed!). Visitors and guests are welcome, and we all rely on plenty of participation to make it a big day. Please come along and fly, or get involved in judging, helping out, eating the sausages. Looking forward to seeing you there.
Clive
Please note that Autumn Scale Day will now be on Sunday 3rd June 2018.
The field will be open to scale aircraft only, but any member with a scale or scaleish model can join in.
Dave Pound will be looking for volunteers to help with setup, registration, catering, judging and flight line control.
Sausage sizzle, hot drinks. Guests very welcome!
If you are a member of WRCS, please consider putting your hand up to help the volunteers who look after our website and facebook page.
We need member's articles - build stories, event reviews, product reviews (avoiding anything that you could be sued for publishing), technical hints and ideas - with pictures if you have them. We can take them in Word or similar with pictures as JPEGs, or in PDF format if you'd prefer them to just be downloaded rather than published as a web page.
We also need an editor to take responsibility for the website, current information, updates, reviewing and publishing artilces submitted. You do need to be reasonably technical - in your comfort zone with Joomla or, at least, able to pick up the ball and run with it, nad you do need a firm grasp on what is, and isn't, suitable for publication.
At the moment, Jody looks after images, Ronny and Michal look after website structure and Clive looks after content, and only Stan and Mike have submitted any articles in recent history. If you'd like to participate, let Clive know. There will be a meeting to discuss the website and plans for its future, probably around Tuesday 6th March.